How to make the perfect Gay Proposal
From popping the question with a glittering diamond, to planning out a night of surprises, proposing can be both exciting and nerve-wracking. For same-sex couples, it often comes with its own set of unique challenges. Here we'll look into how people in LGBTQ relationships go about this momentous occasion. With stories from real partners and expert advice on creating the perfect proposal plan, you'll gain insight into what it takes to make this special day truly memorable.
Before popping the question and making one of the most important decisions of your life, there are some things that need to be taken into consideration.
Choosing the Right Engagement Ring for Your Gay Partner
Engagement rings, as a symbol of everlasting love and commitment, usually don't come off much once they've been put on. Choosing an engagement ring therefore can be a daunting task because each person has their own unique style.
The best way to make sure you select the right ring might be to look together at different options and discuss what type of design, metal or stone is most liked. It is for that reason we suggest Parisian proposal rings. A ring for the proposal which may or may not be the actual engagement ring. We can help you select a simple or fun proposal/ engagement ring if required, or simply accompany you to help with any translation needs.
Deciding on the Best Time and Place to Pop the Question
Timing and location are key components when planning your proposal. Where will you propose? At what time? Are there any special dates or anniversaries that you could incoroprate? Additionally, consider whether or not you want other people around when you ask your partner to marry you; although some couples appreciate having family and friends around during these moments, others may prefer a more intimate setting. It may be difficult to bring guests over to Paris, or to organise a group holiday but if this is important to you then let us know – especially if you would like to include surprise elements.
Creating a Personalized Proposal Plan for Your Gay Partner
Once everything is decided – engagement ring, timing and place, people – it's time to start preparing the proposal plan. This is done in what we call the Love Studio – a place for the creative process to begin.
It involves coming up with creative details and ways to blow your partner away. From presenting the engagement ring on a silver platter, to hiding it in one of many balloons..
Think about any special activities that could be included in the plan; some ideas might involve attending a theatre show, taking a trip out of Paris, going to cookery lessons, fine dining or even having a photoshoot around special landmarks. It might be nice to include something personal that reflects both of you and your relationship as a couple.
Proposing to Your Gay Partner
Asking someone to marry you is no small thing; it takes courage. For that reason, we know for some, it can be a very nerve-wracking experience.
We suggest making sure you give yourself plenty of time to get ready for this momentous occasion. Practice what you're going to say beforehand; mentally prepare yourself; practice calm breathing; take deep breaths; tell yourself positive affirmations… whatever works best for you! And don't forget we'll be right by your side. If nerves get the better of you there's always the option of getting down silently on one knee and handing your loved one your pre-written Love Letter to read themselves. This can be an exceptionally sentimental way to propose too.
A butler will take care of all your needs for your marriage proposal in Paris
"I wanted to organize my own marriage proposal in Paris and I was able to observe that the agencies were oriented towards heterosexual couples. Being gay and passionate about Paris, history, gastronomy but above all love, I decided to launch my own agency in 2018 to cater to gay, lesbian & transgender couples, so they too can be centre-stage."
Because your opinion is very important to us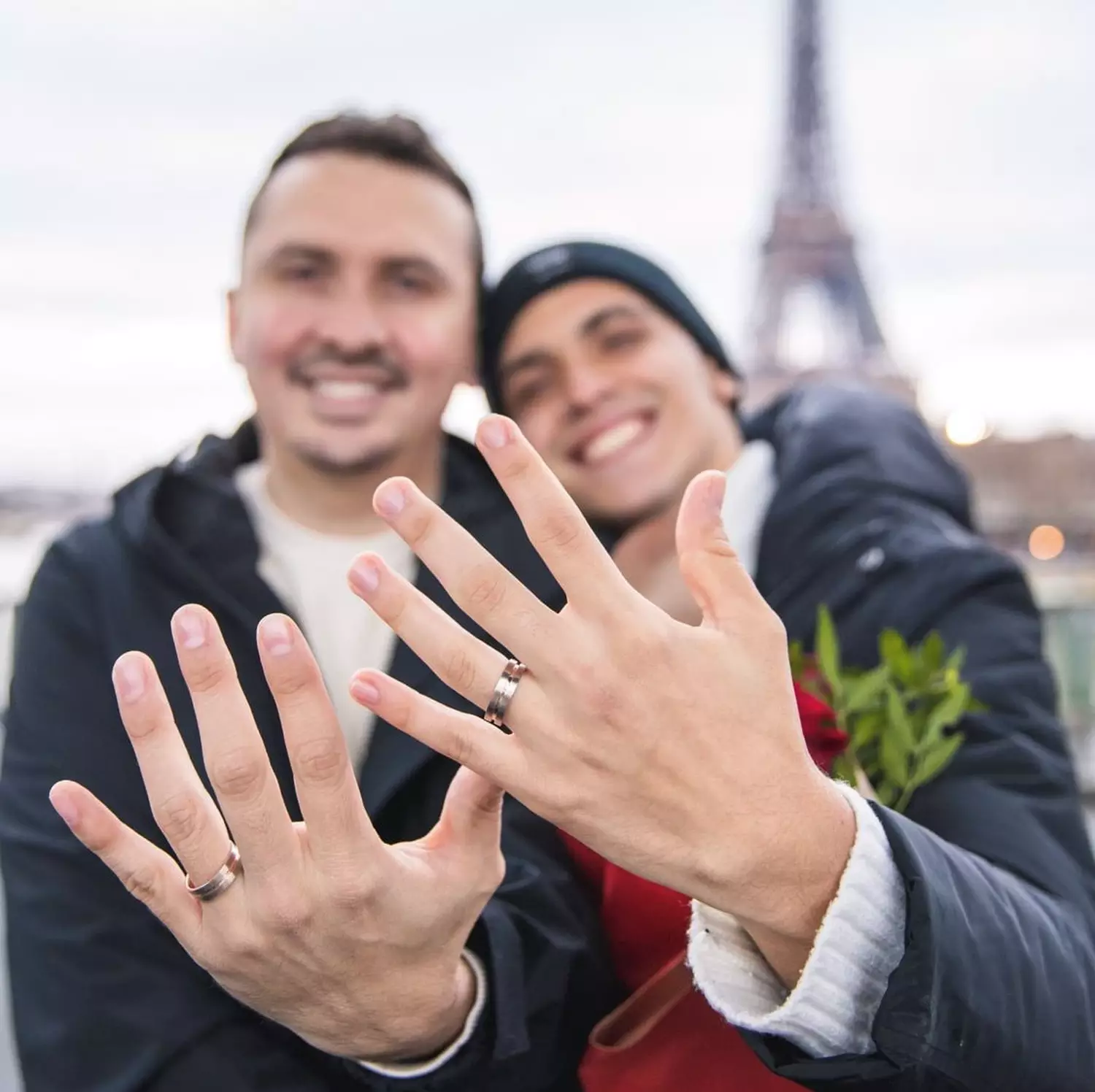 Tips for Making the Proposal Moment Special and Memorable
Beyond calming your nerves before proposing, there are certain things that can be done ahead of time in order to make sure this moment turns out just how you imagined it would. We will take care of all of the following aspects, as well as many more:
Lighting
Music
Picture perfect location and set-up
Detailed plan
How to Ask the Question in a Meaningful Way
Let us help you create the proposal of your dreams!
After we have created the perfect setting, it's finally time to ask the question! Making this moment even more special is possible with some thoughtful words. You can think about what your partner means to you, how far you have come together as a couple and how excited you are for the future.
Your words don't need to be complicated or poetic; it is simply about expressing your feelings from the heart! For this reason we encourage all clients to pen a Love Letter which we will get written up beautifully as a keepsake. We feel this is a key part of the proposal for many reasons, including reminding yourself why you're doing it now but also as something to look back on in the future. Penning a letter from the heart is perhaps a lost art but there's something so intimate and romantic about it that we like to centre all of our proposals around this tangible declaration. The sentiment is the heart of the proposal afterall. If you struggle writing your Love Letter then please get in touch. We are here to help you throughout the entire process afterall.
Dealing with Nerves and Anxiety During the Proposal
Calling on the expertise of a planner, especially when you are proposing abroad takes the stress out of setting up the actual event. Although, we are aware that it is perfectly normal to feel anxious regardless. At Gay Proposal in Paris, we will be there to soothe nerves and remind you to take big breaths beforehand. The role of the butler is perfectly adapted to this task and has been called upon a few times for a hand squeeze or a reassuring look before clients have got down on one knee.
Hiring a proposal planner removes the stress from one of the most important moments in your life. A proposal planner helps you come up with unique and creative ideas that fit your personality and relationship, as well as handling all the logistics and coordination to make sure everything runs smoothly. They also provide valuable advice on location scouting, decor ideas and vendor selection. With a proposal planner, you can ensure that your proposal is unforgettable and tailored to your partner's preferences, without having to worry about the details yourself. Gay Proposal in Paris is the first and only Gay Proposal service operating in Paris.
After the proposal, it's time to celebrate the start of a new chapter in your lives.
Celebrating Your Engagement as a Gay Couple
Celebrate your engagement in a way that resonates best with both of you. Have dinner at a nice restaurant, throw a party with friends or just spend some quality time alone together – whatever feels right for both of you.
Additionally, feel free to do something out of the ordinary: Have an adventure weekend; propose again somewhere special; plan non-traditional activities. The list goes on.
Gay Proposal in Paris is part of the LGBTQ+ community in Paris and as such has a wonderful and vibrant portfolio of trusted vendors to work with, therefore avoiding any challenges some couples might be worried about when planning a same-sex event.
We would love to hear from you!
If you would like to hear more about our proposals services and availability or if you would like to discuss how we can create your perfect proposal in Paris, email us at contact@gayproposalinparis.com or complete this form.