A Once-in-a-Lifetime Eiffel Tower Proposal: Captivating Your Beloved with an Unforgettable Moment
Proposing to the one you love is an unforgettable moment that will stay in your memory forever, and what better way to do it than with a once-in-a-lifetime Eiffel Tower proposal?
From sunrise photoshoots to private engagements on top of the tower, we'll provide you with all the tips and tricks for planning a romantic proposal in Paris. So if you're looking for ways to take your relationship to the next level with a truly breathtaking gesture, read on to discover how you can create a moment that's sure to captivate your beloved!
Planning a Romantic Eiffel Tower Proposal
Asking the love of your life to marry you is one of the most romantic gestures you can make, and if you're planning on popping the question in Paris, then an Eiffel Tower proposal would be a truly unforgettable way to do it. As the most iconic landmark in France, and one of the most recognisable monuments in the world, nothing else quite compares when it comes to creating an iconic, grand romantic gesture. But before you go straight down on one knee— there are some important things to consider.
Choosing the Perfect Location for Your Eiffel Tower Proposal
When it comes to choosing where exactly you'll propose at the Eiffel Tower, there are plenty of places to choose from. Whether it be at sunrise or sunset during a private photoshoot, with just the two of you under the starry night sky near Trocadéro, or even inside the tower itself—anything is possible !
Best Time of Day for an Eiffel Tower Proposal
Choosing a time of day really depends on what kind of atmosphere and setting you want for your proposal. Opting for a daytime proposal gives you more flexibility with location and photographer options. It also means you can stretch the festivities and celebrations far into the night. However, proposals at night give off a magical vibe that can't be beaten! Nothing quite compares to making a declaration of love surrounded by twinkling lights.
Hiring a Proposal Photographer for Your Eiffel Tower Proposal
If you want your Eiffel Tower proposal captured forever, hiring a proposal photographer is highly recommended! We have carefully selected photographers who are skilled and experienced in capturing candid and posed shots of your proposal. Having someone document this special moment discreetly will make sure that everything goes smoothly while giving you photos that you can cherish forever.
Tips for Surprise Eiffel Tower Proposals
Surprise proposals don't require any extra effort per se but if you're looking for small touches that will make your surprise even better – here are some tips! Set up clues leading up to your final destination like a treasure hunt (it could involve items from places that have special meaning to both of you) or tickets to different locations in Paris which eventually lead them to the Eiffel Tower. Whatever you decide on – making sure that every step is full of surprises will guarantee an amazing experience !
Choosing the Perfect Engagement Ring for Your Proposal
The engagement ring is one of the most important parts of a proposal. It's a symbol of your love and commitment, and it's something that your partner will wear every day for the rest of their life. Choosing the perfect engagement ring can be overwhelming, but it doesn't have to be.
When choosing an engagement ring, consider your partner's style and personality. Do they prefer simple and classic designs, or do they like something more unique and modern? Consider the type of metal, the cut of the diamond, and the overall style of the ring.
If you're not sure what kind of ring to choose, consider enlisting the help of a professional jeweler. They can help you find the perfect ring that fits your partner's style and your budget. We have a list of trusted jewelers to ensure you have the best ring for your partner.
A butler will take care of all your needs for your marriage proposal in Paris
"I wanted to organize my own marriage proposal in Paris and I was able to observe that the agencies were oriented towards heterosexual couples. Being gay and passionate about Paris, history, gastronomy but above all love, I decided to launch my own agency in 2018 to cater to gay, lesbian & transgender couples, so they too can be centre-stage."
Because your opinion is very important to us
Making the Most of Your Eiffel Tower Proposal
Capturing The Moment: How To Get The Best Photos Of Your Eiffel Tower Proposal
"A once-in-a-lifetime moment needs once-in-a lifetime photos".
We know leading Parisian photographers with different styles of photography. If you can't find amongst our team a style which speaks to you, then we can liaise with our photographers to share your vision and find a way to make it work, or alternatively bring in new talent for a specific look.
Adding a Romantic Touch To Your Eiffel Tower Proposal
Creating an atmosphere that fits perfectly with both of your personalities is key when it comes to your Eiffel Tower proposal. Adding more romantic touches to your Eiffel Tower proposal through personalization is key to making it a sincere and moving occasion. Whether you pop a ring inside a glass of champagne or have an epic photo gallery of your journey together, there are so many ways to make the moment even more special and poignant to you.
If you want to create something truly magical – consider hiring a serenading violinist or sneaking loved ones to the proposal!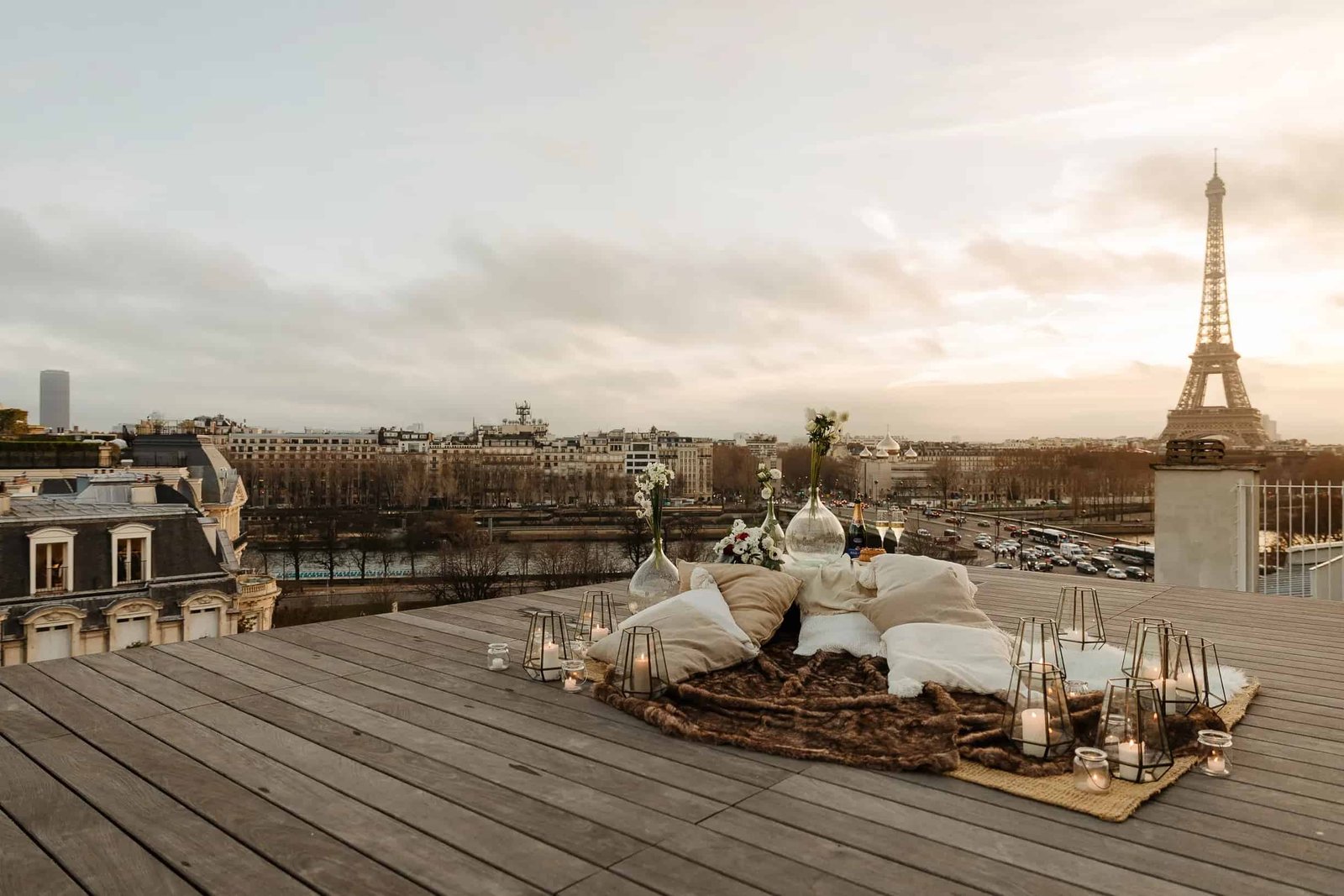 Celebrating Your Engagement: Romantic Things To Do in Paris
The city of love is the perfect place to celebrate after you've popped the big question! Spend some time exploring the city with your beloved. We can point you in the direction of amazing spots only locals know about or we can make reservations at one of the city's many upscale restaurants; whatever idea you choose it's sure to make for a night full of romantic memories.
Here are a few ideas for things you can do after proposing in Paris:
Take a moonlit cruise along the Seine River
Visit hidden gardens, parks and secret streets
Have a picnic on the banks of one of Paris' stunning gardens
The Importance of Hiring a Professional Planner
Let us help you create the proposal of your dreams!
Planning a proposal at the Eiffel Tower can be overwhelming, especially if you're not familiar with the area. That's where a professional planner comes in. A proposal planner helps you choose the perfect spot, plans the perfect proposal, sets up and coordinates the event, liaises with vendors and suppliers, smooths over inconveniences and hires a skilled team such as musicians, florists and photographers/videographers to capture the moment.
A professional planner can also help you with the logistics of your proposal. They can help you navigate the crowds and find the perfect time to propose. They can also help you arrange for transportation to and from the tower, as well as help you with any special requests, such as arranging for a musician to play your partner's favorite song.
Hiring a professional planner takes the stress out of planning your proposal and ensures that everything goes smoothly. It also allows you to focus on what's important: making your proposal a special and unforgettable moment.
Practical Considerations for Your Eiffel Tower Proposal
Where To Stay: Choosing The Best Hotel For Your Eiffel Tower Proposal
If you're planning on making this trip extra special, consider a stay at one of the area's best hotels – we are happy to book for you. There are so many great options located close by while offering breathtaking views that are perfect for your proposal. Whether it's luxurious suites complete with private terraces or intimate boutique style rooms – there's something available for every budget and we are more than happy to organize and orchestrate your proposal near the tower but with the intimacy of being alone.
Logistics: Getting To The Eiffel Tower And Finding The Perfect Spot
If being at the Eiffel Tower itself is what you're after, we can reserve you tickets to ensure that you make it on the day you're after. However, if you'd like to propose near the base, then we can set up something beautiful with the tower as a backdrop.  Peruse our photo gallery for inspiration or talk to us about the options and we can select the best for you.
Dealing With Crowds: How To Have A Private Eiffel Tower Proposal
While the feeling of getting engaged surrounded by hundreds (or thousands!) of people can be quite exciting, some couples may prefer having their own special moment away from prying eyes. One way would be to hire an exclusive butler like Florian in Gay Proposal in Paris who can take you around the tower before it opens, allowing plenty of time and space just for yourselves. We can look into renting out small spaces such as balconies or rooftops nearby if you desire too – there are lots of possibilities.
The Big Question: How To Get Down On One Knee For Your Eiffel Tower Proposal
Once all has been arranged and set up don't forget the most important part – how will you actually go down on one knee? Some people opt for traditional kneeling but there are also creative alternatives you could consider, such as having someone suspend you from wires, if it fits your personality better. Just know that we can help you get creative, if the knee idea is too tried and tested.
We would love to hear from you!
If you would like to hear more about our proposals services and availability or if you would like to discuss how we can create your perfect proposal in Paris, email us at contact@gayproposalinparis.com or complete this form.