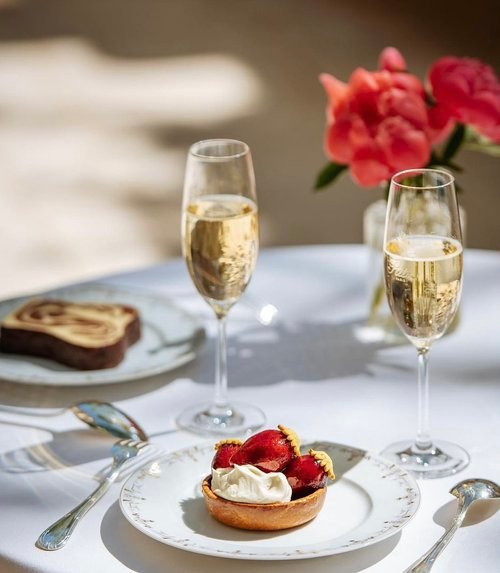 Breakfast or Tea Time
With a personal butler
In an elegant and cosy atmosphere (think ornate wall moldings, framed art, a crackling fire-place and of course, some of the best French delicacies), you can sweetly and chicly propose to your loved one. Live a luxurious experience, where you can taste the best pastries in Paris by great pastry chefs in a room abundant with flowers and candles…
In the middle of your 'tea time', your butler will pass you your pre-written Love Letter, so that you can share your most heartfelt sentiments with your loved one.
Champagne and a huge bouquet of flowers will be presented after your proposal and then you can be whisked off to see the sights of Paris, stopping for professional photoshoots along with the most scenic backdrops, along the way.
Luxury Breakfast or Tea Time
Champagne brunch, cakes, a selection of seasonal biscuits and traditional French delicacies served with a hot drink
Butler With Your Love Letter
Enclosed in a pearl envelope
Flower Arrangements
Parisian style or bohemian chic
2 Glasses of Champagne
White or pink
Our team can create the perfect set-up for your proposal, catering to different preferences and budgets. 
We make you feel special 
Everybody deserves to feel special and at Gay Proposal in Paris we add an extra dimension of romance and luxury with the presence of a butler to oversee and guide you during your proposal. This unique service has so many benefits, including helping with nerves, answering questions and overseeing everything on the day to make sure you have  an experience you will never forget. You deserve it.