EVERYBODY DESERVES A LAVISH PROPOSAL
Gay Proposal in Paris can make your dreams come true with a stunning personalized proposal in the City of Love. Specialising in LGBTQIA+ proposals and events, with our local expertise and savoir-faire we can help you create incredible memories that you'll cherish for a lifetime.
A butler will take care of all your needs for your marriage proposal in Paris
READY TO PROPOSE IN PARIS?
Let us help you create the proposal of your dreams!
As proposals are so deeply personal and poignant at Gay Proposal in Paris we begin the process by getting to know each couple before setting out designing the most exquisite and memorable event. No two proposals are ever the same and we like to weave personal details throughout each one. 
Gay Proposal 
in Paris is a specialist proposal agency serving the
LGBTQIA+ community in Paris
. It is characterized by a distinctive combination of chic, luxury styling, French savoir-faire and more than anything else offers a
heartfelt, authentic and inclusive experience 
for a wonderful community. 
Florian Perrault, the founder of Gay Proposal in Paris, brings with him extensive experience, having worked in management at luxury hotels such as The Ritz and having designed and assisted at events for luxury power houses, such as Louis Vuitton. He brings to this community a specialized, luxury service that they deserve.
Why Gay Proposal in Paris?
1. We make coordinating hassle-free
We can organise everything for you directly and with our trusted network of suppliers we can find exactly what you need when you need it.
2. We save you time researching
 We know the best spots and locations the city has to offer and we are always on the look out for new and upcoming places too.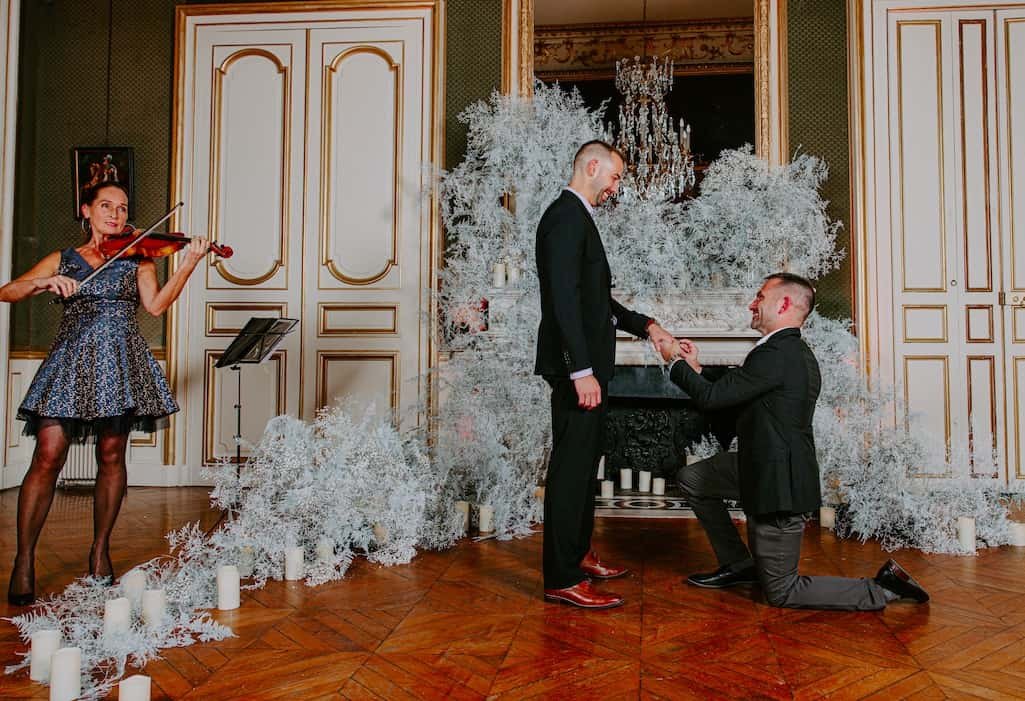 3. We take care of you every step of the way
We take care of the logistics so you can focus on more important things, like which of our favorite locations / florists etc to choose from. Let us do the rest.
4. We create unique events
We personalize each package and can modify and elaborate them as much as you desire. There's also the possibility to create something totally different, it's completely up to you.
Because your opinion is very important to us
We would love to hear from you!
If you would like to hear more about our proposals services and availability or if you would like to discuss how we can create your perfect proposal in Paris, email us at contact@gayproposalinparis.com or complete this form.
Written By Florian (Your Personal Parisian Butler)